Discontinued (Limited availability in stock now for immediate processing)
2019, 2020, Kiln Cast Lead Crystal, 6" diameter.
Sun was carved in Santa Fe and his rays are inspired by the Zia Pueblo sun symbol whose style of depicting sun rays is explored in this piece. Moon was created as a partner to Sun. Suns currently available in Orange-Red, moons currently available in Lagoon (light green) and Uranium. Inquire for special orders (allow 8 weeks for custom orders for out-of-stock colors). Comes with stand.
Sun is a symbol of creation and life's energy. In some stories the Sun is a person whom people seek out looking for assistance and his knowledge of the world. In many coastal myths, the sun is a metaphor for enlightenment and knowledge. Moon is a marker of time and a feminine power or influence over nature. The Moon has the ability to change our moods and thoughts and controls the tides which affect our food cycle. Full moons are credited with providing direction, vision and guidance.
---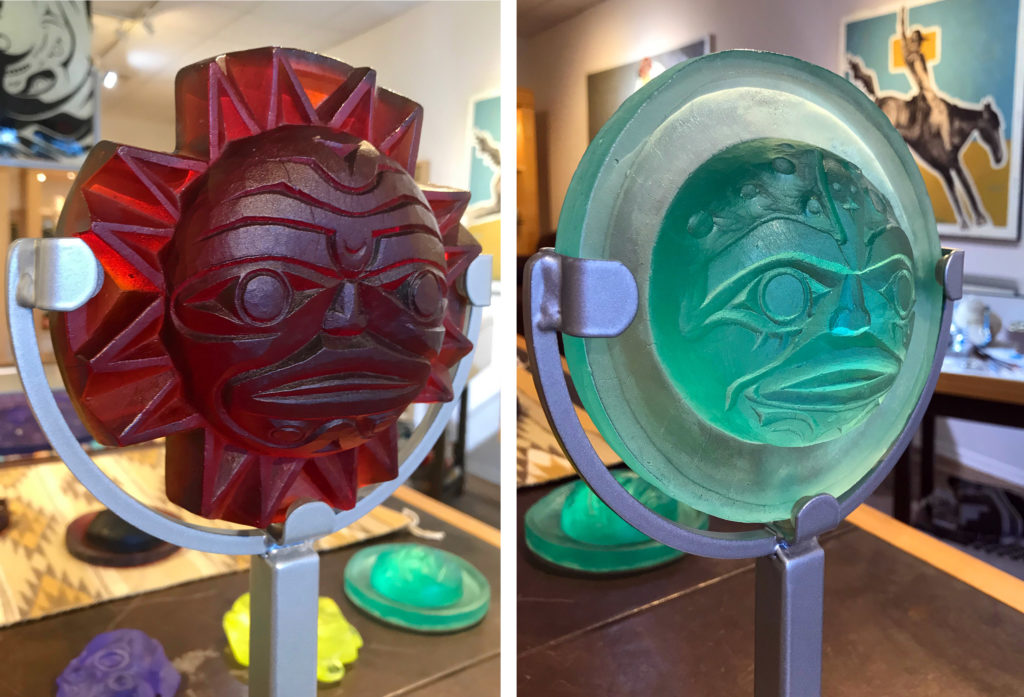 Each piece is molded and cast individually, therefore no two are alike. Variations in surface texture, shading, bubbles and various other inconsistencies are the character and the natural beauty of cast glass and are not to be considered flaws or defects.
For more information or to pay by Zelle: